Featured Press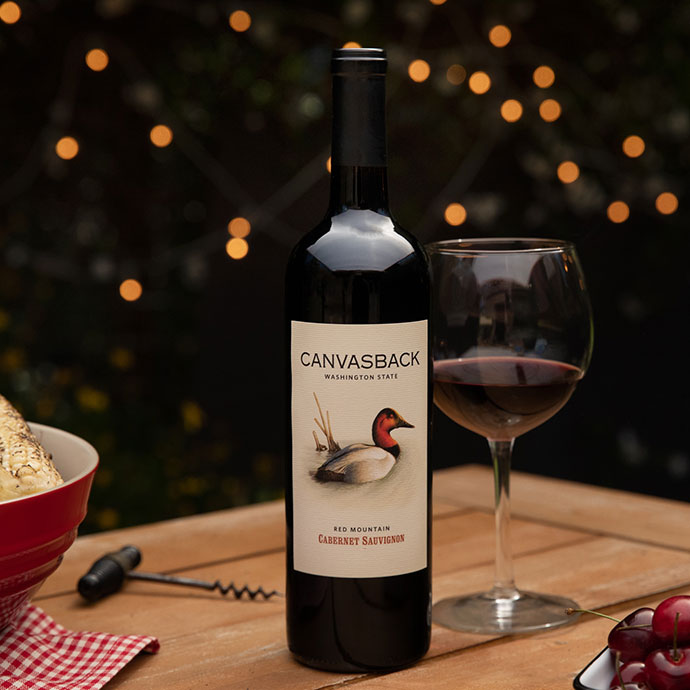 Sip Magazine - BBQ Wines
2017 Red Mountain Cabernet Sauvignon
Plum, black cherry, bramble berries, baking spices, vanilla and oak... Read More »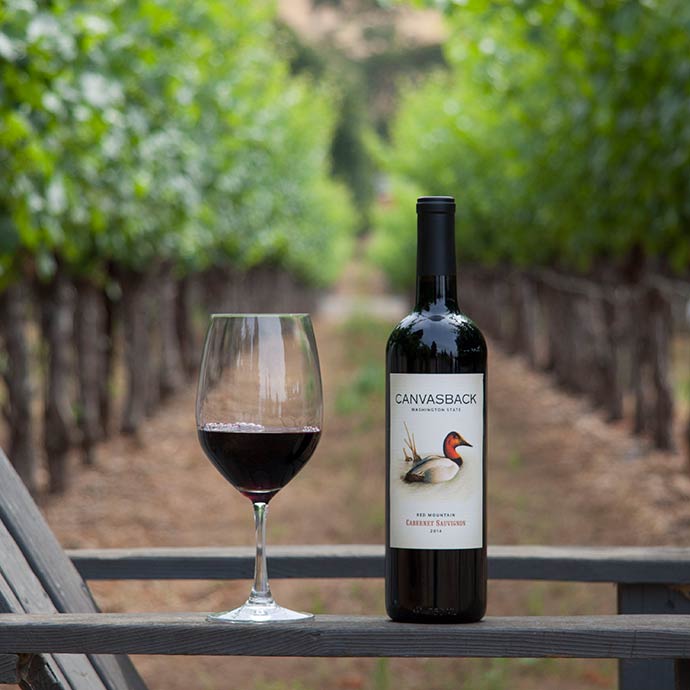 Wine & Spirits - 93 Points
2017 Red Mountain Cabernet Sauvignon
Exciting, distinctive; a wine that transcends simple typicity to its region or variety; a vivid, singular expression of place.Read More »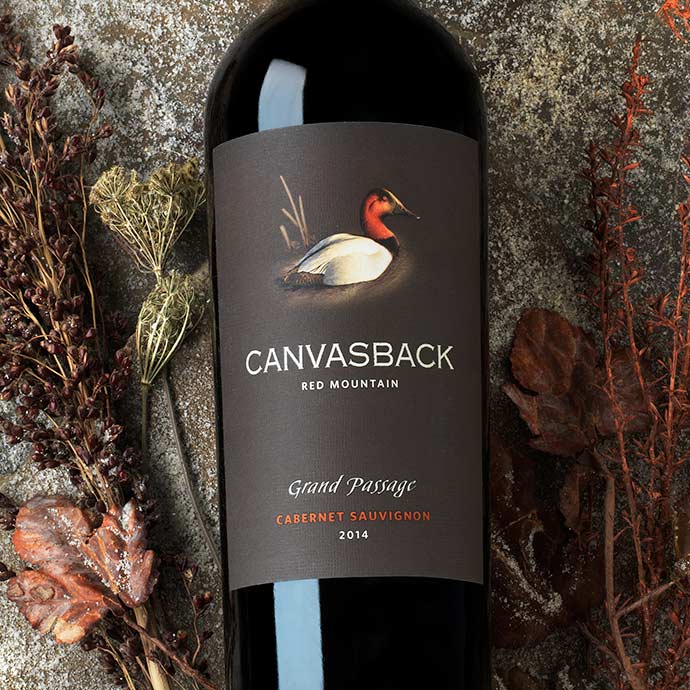 Robb Report
2017 Grand Passage Red Mountain Cabernet Sauvignon
15 Wines That Pair Perfectly With Your Next Backyard Barbecue... Read More »
---
Decanter Website - 93 Points
October 2023


Red Mountain 2020: Vintage review and top wines tasted

The 2020 Canvasback Red Mountain Cabernet Sauvignon Longwinds Vineyard received 93 points. Aromas of Mediterranean scrub, violets and streaks of graphite envelope notes of bramble fruits. The palate is a melange of cocoa nibs, ironwrapped around a core of black fruits.
---
Wine Spectator Website
July 2023


8 Terrific Washington Reds Up to 92 Points

Cabernet Sauvignon Red Mountain 2019 - Precisely structured, rich yet elegantly firm, this red is generous, with blackberry, dried sage and olive flavors that finish with broad-shouldered tannins.
---
Wine Spectator - 87 Points
March 2023


2019 Canvasback Grand Passage Red Mountain Washington State Cabernet Sauvignon

Rather taut right now, with demure black cherry and espresso flavors framed by dry, firm tannins. Best after 2023.
---
Wine & Spirits - 93 Points
December 2020


2017 Red Mountain Cabernet Sauvignon

Exciting, distinctive; a wine that transcends simple typicity to its region or variety; a vivid, singular expression of place. "The Duckhorn Portfolio's estate at the higher elevations of Red Mountain, planted in 2013, is becoming a precocious fruit source. This 2017 offers a lot of wine for the price, with intriguing tension between its savory elements—tobacco leaf, sun-dried tomato skin, cedar frond, mocha—and firm dark-plum fruit. It's a weighty wine, with formidable tannins, but it's delivered wholly on the rails, detailed and on point for steak."
---
Walla Walla Wine
August 2020


Walla Walla Valley Voted America's Best Wine Region in the 2020 USA Today 10Best Readers' Choice awards

The Walla Walla Valley has been named America's Best Wine Region in the 2020 USA Today 10Best Readers' Choice awards following a month-long nationwide public vote. Walla Walla Valley has been selected as a finalist for the prestigious award three consecutive years, but this marks the first time it has earned first place.
---
Robb Report website
June 2020


15 Wines That Pair Perfectly With Your Next Backyard Barbecue

This is the new top-tier release from Duckhorn Portfolio's Washington state Canvasback project and it's a beauty. Deep and layered, concentrated and complex, it opens with an aromatic mix of black fruit, espresso, tobacco leaf, spice and earth, followed by plush but pure dark berry, cherry and plum flavors that unfold over an impressive tannin structure.
---
Sip Magazine website
May 2020


Survival 6-Pack: Red Mountain BBQ Wines

Better known for its presence in Walla Walla, three of Canvasback's four Cabs are made with Red Mountain fruit. The winery — the only Washington label under the Duckhorn family of wines — adds in a bit of Merlot, Mourvèdre, Petit Verdot and Syrah for good measure, but this wine proudly proclaims Red Mountain Cab.
---
Wine Enthusiast - 91 Points
November 2019


2016 Red Mountain Cabernet Sauvignon

Bright, compelling aromas of raspberry, red currant and spice lead to ripe red-fruit flavors that taper toward the finish. Plump, surprisingly tamed tannins provide support.
---
Washington Wine Blog
January 2019


Canvasback

One of the outstanding new Washington wineries formed by Duckhorn pioneers Dan and Margaret Duckhorn in 2011, Canvasback utilizes the vineyard management talents of Dick Boushey and winemaking abilities of Brian Rudin in creating rich and layered Washington Cabernet Sauvignon.
---
Wine & Spirits - 93 Points - Best Buy
October 2018


2015 Red Mountain Cabernet Sauvignon

Exciting, distinctive; a wine that transcends simple typicity ro its region or variety; a vivid, singular expression of place.
---
Bonfort's Wine and Spirits Journal
Wine of the Week Canvasback Red Mountain 91 Points
You might be surprised to know that Washington State is the second largest wine producer in the U.S. behind California. And yet Washington wine is still something of a mystery.
---
Robb Report
June 2018


A Great Washington Cabernet from ... a Napa Producer?

For Napa's prominent Duckhorn Wine Company, it was no contest. When they were considering expansion plans in 2011, their eye was caught by tiny Red Mountain in Washington's larger Columbia Valley, and by its already-stellar reputation for Cabernet and Merlot. They wanted proof of the quality. Extensive blind tastings of Napa and Washington wines, in fact, were not only convincing, but exciting for the new frontier, and Duckhorn secured one of the most promising vineyard sites yet to be planted in Red Mountain, near the top of the ridge.
---
Wine Advocate - 92 Points
June 30, 2017


2014 Grand Passage Red Mountain Cabernet Sauvignon

The 2014 Grand Passage comes all from the slopes of Red Mountain and is 80% Cabernet Sauvignon and 20% Merlot. It's a classic Cabernet with its red currants, graphite and cedary spice-driven bouquet, and it's medium to full-bodied, elegant and seamless on the palate, with polished tannin and impressive integration of all its components. It's a terrific 2014 that's going to drink nicely for 10-15 years.
---
Wine Advocate - 91 Points
June 30, 2017


2014 Red Mountain Cabernet Sauvignon

Not far behind the more expensive Grand Passage cuvée, the 2014 Red Mountain Cabernet Sauvignon checks in as 87% Cabernet Sauvignon, 9% Merlot and the balance Malbec and Cabernet Franc. Notes of black raspberries, cassis, black cherries, licorice and graphite all emerge from this perfumed, complex and elegant red that has medium to full-bodied richness and a clean, classy finish. Drink it anytime over the coming decade.
---
Washington Wine Blog
May 30, 2017


Canvasback

A new winery project started by Duckhorn Vineyards of Napa Valley prestige, Canvasback is an exciting new player in Washington wine. Canvasback essentially follows Duckhorn's model by crafting wines made by grapes from top growers with fruit from Canvasback's own estate vineyard.

The current Cabernet wine is sourced from some great vineyards in Washington, including Klipsun, La Coye, Shaw and Quintessence. 2013 marked the first year that Canvasback acquired a 20-acre unplanted vineyard site on Red Mountain. Located near the top of the mountain, above the frost zone at an elevation of approximately 1,100 to 1,300 feet, this exciting site is lead by Canvasback vineyard manager Dick Boushey, and head winemaker Brian Rudin. Canvasback began planting its Red Mountain vineyard predominantly to Cabernet Sauvignon in 2014. The name Canvasback connected with Duckhorn Wine Company's waterfowl tradition as the Canvasback duck is native to the Pacific Flyway, with breeding grounds in Washington State.
---
Wine Enthusiast - 92 Points
February 2017


2014 Red Mountain Cabernet Sauvignon

Coming from a warm vintage in a hot region, this wine brings light aromas of mineral and red and black fruit along with a barrel-spice top note. The black-cherry flavors are lush, full and palate coating, supported by firm tannins. It's high on the delicious scale. —S.S.
---
Wine & Spirits - 94 Points - Year's Best US Cabernet & Blends
April 2016
2013 Red Mountain Cabernet Sauvignon
In its second vintage on Red Mountain, Duckhorn produced a massive cabernet. The initial impression is that it's so opaque, it won't be able to get out of its own way. But after just ten minutes it starts to reveal its trajectory, a concentrated, powerful, black-fruited wine adorned with scents of lavender and rosemary – relentless, and yet completely in balance, and years from peak expression. It's a cabernet to cellar and watch evolve for a decade.
---
Wine & Vines
December 4, 2015


2015 Vintage Earns Raves in Washington

With vines settling in for a long winter's nap across the Northwest, winemakers in Washington state are giving high marks to the 2015 vintage.

Hot, dry weather with cool conditions at just the right moments proved ideal, and the resulting wines are already showing a blend of power and elegance that promise to rank them among the decade's most prized.
---
Seattle Times
Setember 26, 2014


Red Mountain grapes lure Duckhorn to Washington

DUCKHORN VINEYARDS is not the first California winery to explore Washington wine country, but it might be the most significant.

Chalone came and went with Canoe Ridge Vineyard, and Gallo arrived in 2012 when it bought Columbia Winery. But Duckhorn landing here is compelling because it is one of the oldest and finest producers from California's most important region (Napa Valley) coming to make wine in Washington's top viticultural area (Red Mountain).

Duckhorn began in 1976 in the Napa Valley town of St. Helena and quickly gained prominence. It has since launched such brands as Paraduxx, Goldeneye, Migration and Decoy. Canvasback is the company's first venture outside of Northern California.

Why Red Mountain? It was a simple decision for Duckhorn.
---
Great Northwest Wine
November 13, 2013


Napa's Duckhorn coming to Washington's Red Mountain

One of California's most high-profile wineries is coming to Washington.

Duckhorn, a famous Napa Valley winery that focuses on Merlot, will launch a Cabernet Sauvignon-focused winery using Red Mountain grapes. Carol Reber, chief marketing and business development officer for Duckhorn, said it will release its first wine, a red wine from the 2012 vintage, around Labor Day 2014.