Vineyards
Longwinds Vineyard
Located near the top of Red Mountain, at elevations reaching 1,300 feet, Canvasback's Longwinds Estate Vineyard is situated above the frost zone and features gently rolling slopes and an ideal southwest exposure. Longwinds Vineyard was planted in 2014 under the guidance of Winemaker Brian Rudin and Vineyard Manager Dick Boushey. A past "Grower of the Year" honoree by both the Washington Association of Wine Grape Growers and the Washington State Grape Society, Dick also worked closely with the Duckhorn Wine Company team to select the site, which is situated just above Col Solare (the vineyard partnership between Tuscany's Marchesi Antinori and Washington's Ste. Michelle Wine Estates).
High up on the mountain, the vineyard's thin, windblown Warden series sandy loam soils are above a basalt layer deep enough to allow the vines to fully take root. Because the soils at Longwinds are so thin, the irrigation can be tailored to regulate growth, which in turn yields perfectly ripe and beautifully concentrated fruit. At the same time, with diurnal swings of 40+˚, the grapes preserve excellent natural acidity.
Longwinds features 13.5 acres of Cabernet Sauvignon and 4.5 acres of Merlot, with the Cabernet grown in the rockier, exposed soils at the top of the vineyard, and the Merlot grown near the bottom, where the soils have higher water-holding capacity. As an additional benefit of the region's thin, pest-free soils, all of the vines at Longwinds Vineyard are own-rooted.
"With our Longwinds Vineyard, we've quite literally put down roots here on Red Mountain," says Brian. "This vineyard is an essential part of our long-term vision for Canvasback, and our goal of making a great terroir-driven wine from one of the world's finest Cabernet Sauvignon winegrowing regions."
Red Mountain
With only 1,500 acres under vine, Red Mountain is Washington State's smallest winegrowing appellation. It is also its most renowned. With ideal soils, a perfect sloping southwestern exposure, and a dry desert climate with 40+˚ temperature swings between day and night, Red Mountain has done more than establish itself as the finest region in Washington for growing Cabernet Sauvignon; it is rapidly earning a reputation for producing some of the most compelling and distinctive Cabernet Sauvignons in the world. In 2012, building on its 35-year history of making globally acclaimed Cabernet Sauvignons, Duckhorn Wine Company came to the mountain to make Canvasback Red Mountain Cabernet Sauvignon.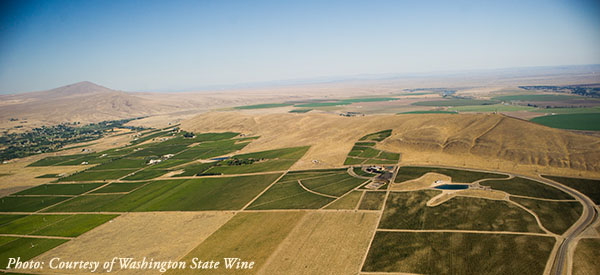 "While our roots are in Napa Valley, our vision has always been the idea that certain varieties find their best expressions in particular regions," says Duckhorn Wine Company President and CEO Alex Ryan. "Cabernet Sauvignon from Red Mountain in Washington State is one of these amazing combinations. Our acquisition of Longwinds Vineyard is a testament to how fully committed we are to Washington State and the Red Mountain AVA. Establishing our own estate vineyards is central to Canvasback's future and consistent with our approach to Duckhorn Vineyards, Decoy, Paraduxx and Goldeneye—all of which use a combination of grapes from top growers and estate vineyards."