Butter Basted Ribeye with Cast Iron Cabbage and Meyer Lemon Chimichurri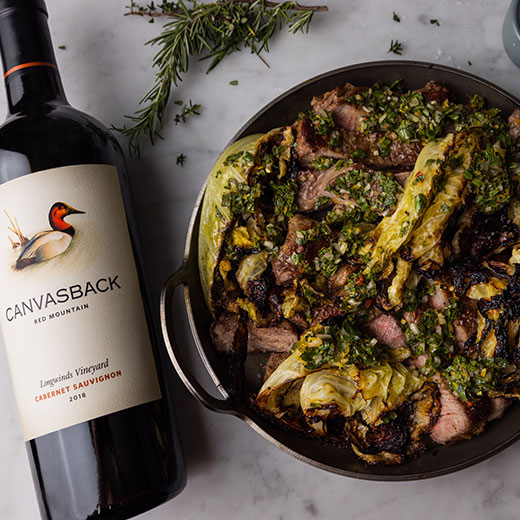 Yield: 2 servings
Prep: 10 minutes | Cook: 20 minutes
Total Time: 30 minutes
A big wild red wine that begs for equally robust flavors that can be found in this brown butter basted beef and griddled cabbage recipe. The firm tannins in Canvasback Cabernet paired with the acidity of Meyer lemon help bring everything to a level playing field. A great recipe for your next dinner party.
Ingredients
2 Ribeye Steaks
Extra Virgin Olive Oil
Salt
3 tbsp unsalted butter
3-5 sprigs of thyme
2 cloves of garlic, lightly smashed
½ head Savoy Cabbage
For the chimichurri:
2 meyer lemons, for zest and juice
1 medium sized shallot
1 cup chopped Italian parsley (~1 cup)
¼ cup plus 2 tbsp extra virgin olive oil
½ head savoy cabbage
Preparation
Start by allowing the steaks to come to room temperature before cooking.
To make the chimichurri mince the shallot and put it in a mixing bowl with the zest and juice of two meyer lemons. Stir in the chopped parsley, EVOO and a pinch of salt and set aside.
Heat a large cast iron pan to high heat. Lightly brush both sides of the steaks with extra virgin olive oil and season liberally with salt before placing in the hot pan. Cook for about 2 minutes on each side, or until well caramelized. Turn the heat down to low and add in the butter, garlic and sprigs of thyme. Spoon the butter over the steaks and adjust the heat as needed - the butter should be frothy, but not burning. Cook and continue basting until desired internal temperature is reached. Remove the steaks from the pan and transfer to a resting rack. Spoon the butter and herbs over the top of the steaks and allow them to rest while you cook the cabbage.
Take the half head of cabbage and cut it into quarters, leaving the core intact. Add a drizzle of EVOO into the cast iron pan and bring back to a medium high heat. Cook the cabbages in the cast iron for 2-3 minutes on each side, or until well caramelized. Season with a pinch of salt and remove from the pan.
Slice the steaks and serve on a plate with the griddled cabbage wedges. Spoon the meyer lemon chimichurri over the steaks and cabbage.
Take a look at our recommended pairing below.