French Fries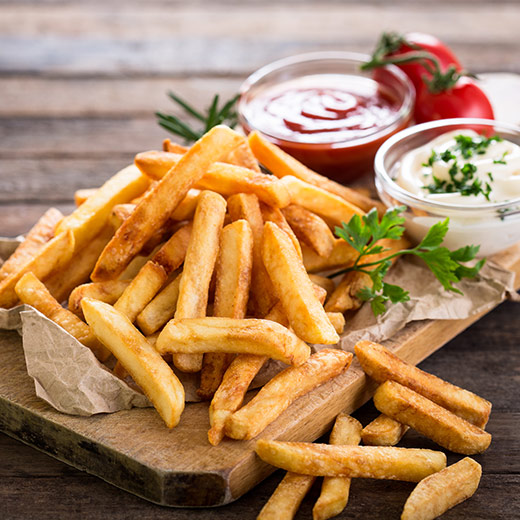 Yield: 6 servings
Prep: 15 minutes | Cook: 45 minutes
Total Time: 1 hour
Ingredients
4 russet potatoes
2 qts of Canola oil
Large bowl of ice water
Paper towel
Baking pan
Cooling rack
Oil thermometer
Salt
Preparation
1. Peel the potatoes and cut them lengthwise into French fry shapes. Store the cut potatoes in cold water for 30 minutes or up to a day in advance.
2. Pour the oil into a large enough pot to hold the 2 quarts of oil leaving at least half of the pot space open for frying. When the oil is ready for frying, test a piece of potato and it should bounce in the oil and sizzle. Oil should not smoke. Temperature should be about 300 degrees.
3. Drain the potatoes and remove excess water with paper towel. Place 1/3 of the potatoes into the hot oil one at a time and allow them to fry slowly, agitating the potatoes in the oil using a metal slotted spoon so they are fully submerged and do not stick, 5-6 minutes.
4. Once the potatoes reach a dark golden brown, remove from the oil and place on cooling rack and season with salt. Repeat step 4 until all potatoes are finished.
To Serve:
Serve French Fried with Mayonnaise, Ketchup and/or Vinegar.