Green Bean Bundles with Mushrooms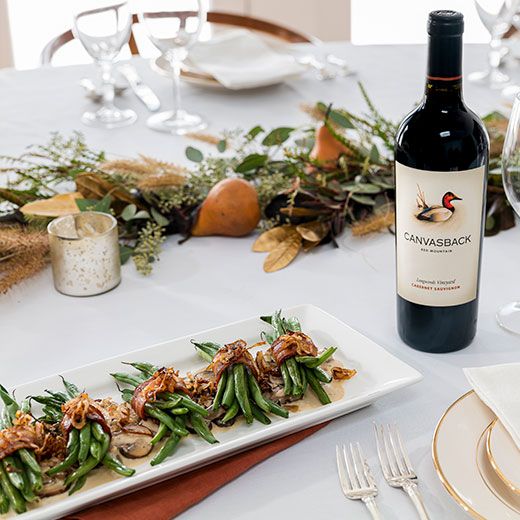 Yield: 8-10 servings
Prep: 10 minutes | Cook: 40 minutes
Total Time: 50 minutes
The perfect side dish, these green bean bundles wrapped in bacon over a mushroom sauce are full of flavor. Pair it with a Canvasback Cabernet for the perfect pairing.
Ingredients
5 bacon slices
1 ½ lbs green beans - ends trimmed
2 large shallots - thinly sliced
1 lb mushrooms - cremini or other
2 garlic cloves - minced
2 tsp thyme
2 tbsp butter
¼ cup white wine
1 cup cream
½ cup Parmesan - grated
Olive oil
Preparation
In a medium skillet - cook bacon - slightly under, not crispy. Place on a paper towel and set aside.
In the same skillet using the bacon drippings, or if you prefer, clean the pan and use olive oil - cook the shallots in 2 batches until crispy. Place on a paper towel to cool.
Blanch the green beans in a large pot of boiling salted water until al dente - about 2-4 minutes. Place the beans in ice cold water to stop the cooking, drain well. Spread the beans on a towel in a single layer and gently roll up the towel. This will help them dry.
Preheat the oven to 350 F.
To make the bundles - cut each piece of bacon in half - take 6-7 green beans and wrap them with a half piece of bacon - place on a parchment lined sheet pan with the cut side of the bacon face down. Repeat with remaining green beans and bacon. Bake for about 15 minutes.
While the bundles are cooking, prepare the mushroom sauce. In a large skillet over medium high - heat butter and a drizzle of olive oil. When hot, add the mushrooms and cook for a few minutes, then add the garlic, thyme, salt and pepper - continue to cook until mushrooms are done - another 3-4 minutes.
Deglaze the pan with the wine - cook 2-3 minutes, add the cream and parmesan to the mushrooms - stir to combine and cook for a few minutes until thickened. Taste and adjust seasoning if needed. Keep warm.
Serve
Remove bundles from oven. Pour mushroom sauce on a warm serving platter and arrange bundles over the sauce. Garnish with crispy shallots and serve.
Take a look at our recommended pairing below.