Grilled Asparagus with Lemon Butter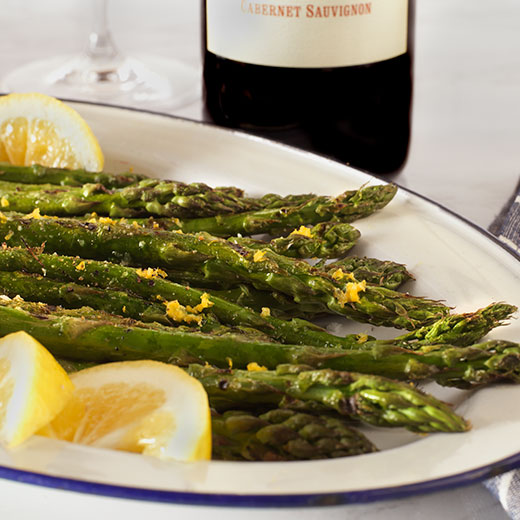 Yield: 4-6 servings
Prep: 5 minutes | Cook: 10 minutes
Total Time: 15 minutes
A favorite side dish is this simple grilled asparagus recipe that is lightly coated in butter, lemon and a touch of heat!
Ingredients
1 ½ lbs asparagus spears - trimmed
3 Tbsps butter or olive oil
1 tsp lemon zest
Pinch of chili flakes
Pinch cayenne pepper
Salt and pepper
Preparation
Clean asparagus.
Melt butter and lemon zest, chili flakes and cayenne pepper.
Heat grill on high until hot. Brush grates with oil.
Brush asparagus with butter mixture and sprinkle with salt and pepper.
Transfer to grill, reduce heat to medium and cook asparagus 2-5 minutes per side, turning often until desired doneness.
Serve
Place on platter and serve.
Take a look at our recommended pairing below.