Grilled Cheese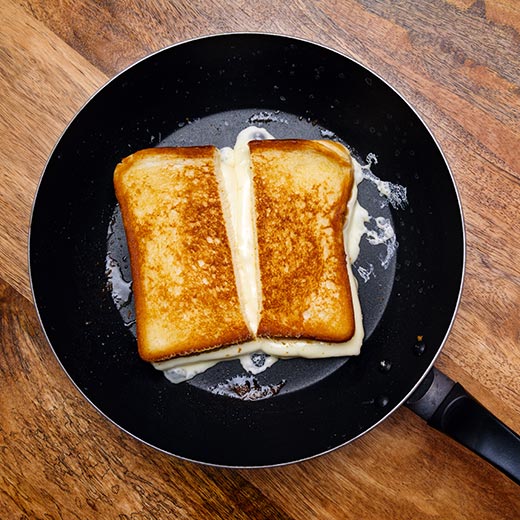 Yield: 6 as Hors d' Oeuvres or 4 as an Appetizer
Prep: 5 minutes | Cook: 15 minutes
Total Time: 20 minutes
Ingredients
8 slices of your favorite bread
1/4 cup Soft or whipped butter
2 Tbsps Dijon mustard
2 Tbsps Banyuls Vinegar
2 cups Cheese, grated Swiss and Gruyere
1/2 cup Cheddar, grated Extra Sharp
Black Pepper and Salt
Preparation
1. In a medium bowl season the grated cheeses together generously with vinegar, salt and pepper. Put a thin layer of mustard on all eight slices of bread. Layer an even mixture of cheese onto 4 slices of bread. Close the sandwiches.
2. Spread half of the butter on top of each sandwiches and place them butter side down onto a cold saute pan. Butter the remaining side of the bread. Place the sandwiches over low heat for 5 to 7 minutes with a cover. Periodically check to ensure bread is not burning.
3. When cheese is visibly melted and bottom side is toasted flip and turn up heat. Cook for 1 to 2 minutes. Remove from heat and allow to cool for 3 to 4 minutes. Slice and serve.