Baby Back Ribs with Blackberry BBQ Dijonaise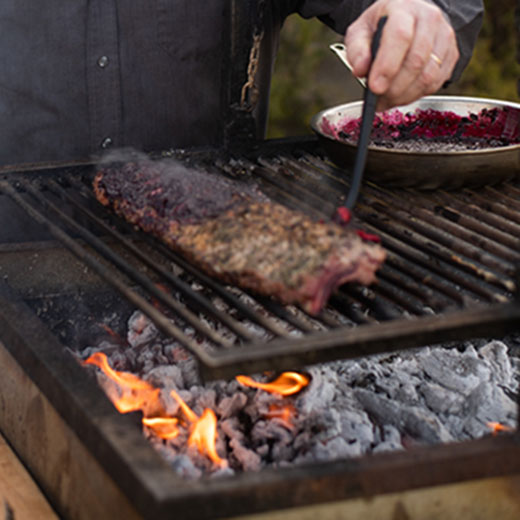 Treat your tastebuds to these flavorful herb-rubbed baby back ribs with blackberry Dijonaise. The refreshing herb rub and homemade sauce made from fresh blackberries and Dijon mustard add sweet and tangy goodness. Fire up your grill, and let's get started!
Ingredients
2 racks baby back ribs
For the Rub
2 tbsp fresh rosemary
2 tbsp fresh thyme
Salt & Pepper
For the Baste
1 tbsp Balsamic vinegar
3 tbsp light olive oil
Garlic salt
Onion salt
Pepper
For the Blackberry BBQ Dijonaise
1 cup fresh or frozen blackberries
4 tbsp brown sugar
1 tbsp Dijon mustard
1 shallot
2 cloves garlic
2 tbsp apple cider vinegar
For the Lentil Salad
1 ½ cups Puy lentils
1 large leek
1 cup diced carrots
½-¾ cup EVOO
1 juiced lemon
Splash to taste w/ red wine vinegar
Salt & Pepper
Preparation
Prep your ribs. Remove the membrane on the bone side.
Fine chop the rub ingredients and apply generously to the ribs.
Puree the blackberries and set aside.
Bring 4 qts of water to a boil.
Chop garlic and shallot, peel and dice carrots, and remove leek roots and green tops then split the leek in half lengthwise.
Combine baste wet ingredients in a small bowl.
Add lentils to boiling water, reduce to a simmer until al dente, 15-20 minutes.
Sauté carrots in light olive oil in a medium pan until al dente, then add to a medium bowl.
In the same pan sweat garlic and shallots, then add the pureed blackberries and other BBQ sauce ingredients. Bring to a simmer and remove from heat.
Check the lentils and drain. Rinse in cold water for 30 seconds, then add to the bowl with the carrots. Add all other lentil salad ingredients, except the leeks, and toss.
Adjust cooking zones on the grill. For gas grills, turn off half the burners. For lump charcoal, push to one half (if using lump, preheat oven to 275F).
Place ribs and leeks on a sheet pan. Brush with baste and sprinkle with garlic salt, onion salt, and pepper.
Place bone side down on the grill. Place leeks cut side up, cover, and cook for 5-8 minutes. Flip and adjust ribs and leeks, cover 5-8 minutes.
Remove burnt bottom leaf from leek, dice and add to lentils and toss.
Flip ribs. Cover 5-8 minutes.
If using gas, put all burners on low. For lump, spread coals out evenly.
Flip ribs and generously apply BBQ sauce back to ribs, bone side up. Cover 5-8 minutes.
If using gas, flip ribs, cover and turn off all burners. For lump, remove ribs to a cookie sheet. Place in oven at 275F. Let ribs rest for 15 minutes.
On a platter, place lentil salad in a row in the middle. Remove ribs and carve. Place over lentils, bone side down.