Latkes Topped With Herb Roasted Mushrooms and Brie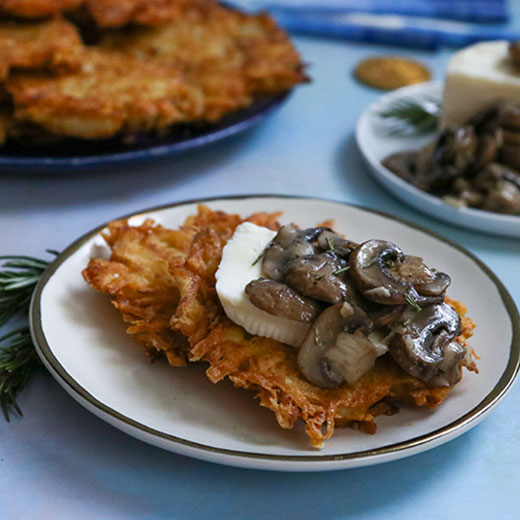 Yield: 10-12 servings
Prep: 40 minutes | Cook: 20 minutes
Total Time: 1 hour
Recipe Courtesy of: Amy Kritzer @whatjewwannaeat
Ingredients
Classic Latkes:
2 pounds russet potatoes (approximately), washed (to get 5 cups shredded)
Ice water
2 tablespoons white onion grated (optional, you can add more too for more onion flavor)
2 large eggs
2 tablespoons all-purpose flour
1 tablespoon potato starch (optional)
1 teaspoon salt
½ cup canola oil (or other oil for frying like grapeseed)
Herb Roasted Mushrooms and Brie Topping:
½ tablespoon unsalted butter
½ tablespoon extra-virgin olive oil
2 garlic cloves, minced
1 pint of button mushrooms, sliced
¼ teaspoon salt
1 spring of fresh rosemary, chopped (about ½ teaspoon)
8 ounces Brie cheese
Preparation
For Classic Latkes:
Peel your potatoes one at a time and shred them with the large holes of a box grater into a bowl of ice water. You should have about 5 cups of potatoes. Then grate the onions into the bowl. Let sit for 10 minutes.
Remove potato/onion mixture, squeezing out the moisture into the water. Dry potatoes very well with towels or cheesecloth and keep covered. Let the water sit for 5-10 minutes for the starch to accumulate on the bottom. Carefully drain water, reserving the white starch on the bottom. This part is optional, but it helps make crispier latkes with soft insides. The ideal latke! You can also add potato starch to the potato mixer directly to create a similar effect.
Place potato/onion mixture in a large bowl, dry again very well. Then add in the eggs, flour and salt and reserved dried-off starch and combine.
Set up a cooling rack over paper towels.
Heat up about ¼ inch of canola oil in a large (cast iron) sauté pan. Pro tip- add a little piece of peeled carrot to the oil to soak up the brown bits that flake off so they don't get in your latkes!
Scoop heaping 1/4 cup spoonfuls of the potato mixture into the oil (they should sizzle!) and flatten slightly and fry until golden brown, about 3 minutes. Then flip and fry the other side another 2 minutes. Don't overcrowd the pan.
Repeat with remaining latke batter, drying it again if liquid starts to accumulate. Drain on a rack over paper towels and sprinkle with more salt.
For Herb Roasted Mushrooms and Brie Topping:
Heat a large cast iron or heavy bottom pan over medium-high heat and add butter and olive oil.
Then add garlic and stir. Then add mushrooms and salt and sauté until they start to sweat, about 2 minutes.
Add the rosemary and sauté until mushrooms and tender, about 8 minutes.
You can warm up the brie by heating it in an oven-proof container in a 350-degree F oven for about 10-15 minutes or until warm and gooey or serve at room temperature.
Top each latke with a layer of Brie cheese and a dollop of the warm mushrooms.
Take a look at our recommended pairing below.