Pulled Pork Sandwich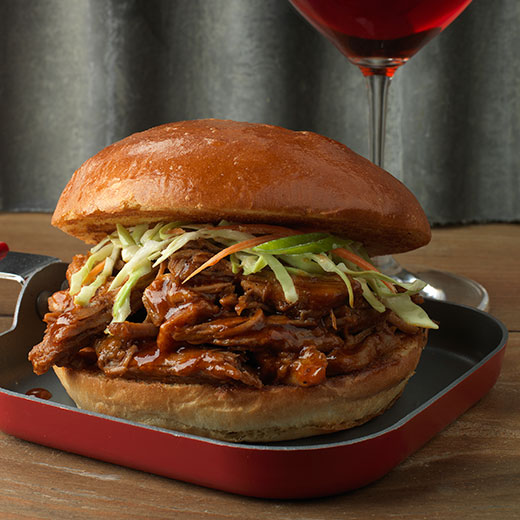 Yield: 6 - 12 servings
Prep: 7 hours | Cook: 1 hours
Total Time: 8 hours
Good things come to those who wait. This recipe might start cooking at sun up to be ready by dinner, but it's worth it. It makes several servings, plan to enjoy leftovers too. The perfect combination of spicy, sweet and a little messy - all you need to do is to add a little crunchy coleslaw and a glass of Canvasback Cabernet. You will have pulled pork at its finest.
Ingredients
1 ea Boneless Pork butt (5 to 7 lbs)
1 cup Brown sugar
½ cup Salt
2 tbsp Garlic powder
2 tbsp Onion powder
2 tbsp Fennel Seeds, toasted and ground
1 tbsp Black pepper, toasted and ground
Preparation
Preheat oven to 350 degrees
Combine all of the dry ingredients in a bowl and mix evenly. Rub the mixture into the meat.
Place the entire pork butt onto a foil lined baking pan with 2 cups of water and cover for 2 hours. After the two hours, reduce heat to 300 degrees and continue to cook for 4 to 5 more hours basting the meat every hour with the cooking liquid. Be prepared that there will be steam when you peel back the foil.
Carefully remove the meat from the oven. To test whether the meat is done, stick a fork into the meatiest side (versus the top) of the pork butt and the fork should easily twist. If there is a lot of resistance, continue to cook covered for an additional hour. Once the meat is fully cooked, allow to rest for about 30 to 45 minutes in it's cooking liquid. Then shred the meat. A portion of the meat can be mixed with a small amount of cooking liquid- cooking liquid may be salty therefore add sparingly!
Serve
Serve Shredded Pulled Pork on your favorite Roll or Baguette with a fresh Cabbage Slaw or favorite condiments such as Mustard, BBQ Sauce, Pickles and/or Butter.
Take a look at our recommended pairing below.